Arms Control Today, News in Brief, March 2019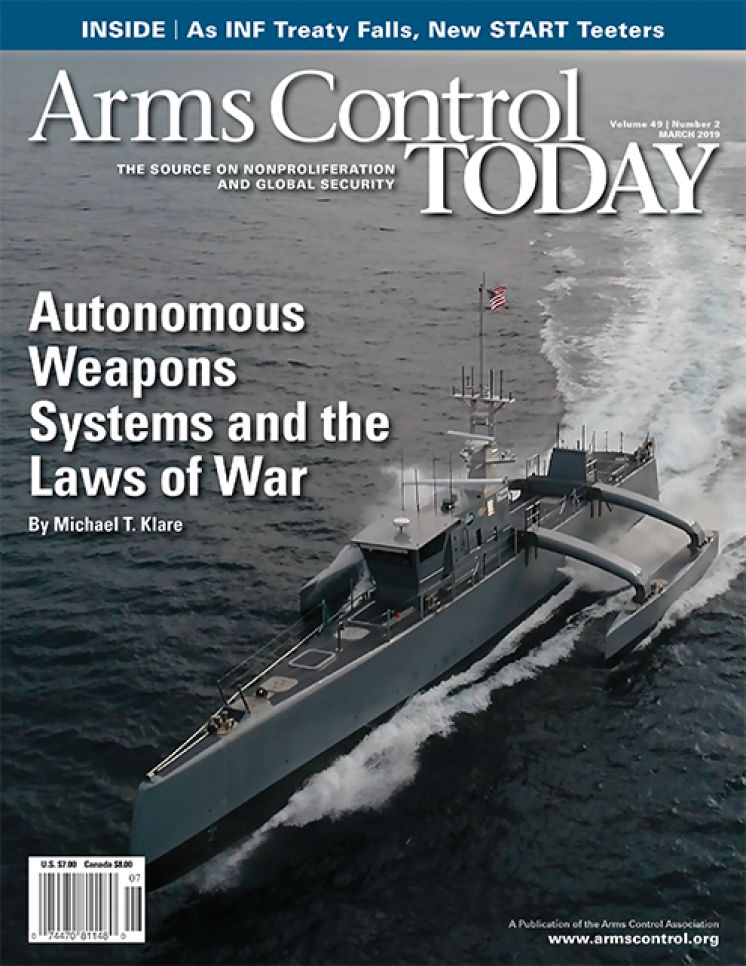 Dear friends!
Center for International Security and Policy is pleased to announce a joint project with the The Arms Control Association regarding the news publication from the monthly magazine Arms Control Today with the translation into Kazakh and Russian languages. We believe that the possibility to read the news in Kazakh and Russian languages will contribute to providing both the population and experts of Kazakhstan and the Central Asia region with the latest information on current processes in the field of international security.
MOX Program Suffers 'Irreversible' Blow 
A U.S. federal appeals court delivered a further blow Jan. 8 to efforts to salvage a U.S. program to build a mixed-oxide (MOX) fuel fabrication facility in South Carolina.
The 4th U.S. Circuit Court of Appeals lifted a district court injunction that prevented the U.S. Energy Department from pursuing its plans to end the controversial MOX fuel program. (See ACT, December 2018.)
Adding to the court ruling, the U.S. Nuclear Regulatory Commission issued a Feb. 8 cancellation of contractor CB&I AREVA MOX Services' license to continue with the project.
Tom Clements, director of the nuclear facility monitoring group Savannah River Site Watch, hailed the "irreversible step" to cancel the license and applauded the decision to end the "wasteful, mismanaged project."
At one time, the United States intended to dispose of surplus plutonium from its nuclear weapons program by using the material to manufacture fuel for civilian nuclear power plants.  After years of ebbs and flows on that policy decision, the Energy Department decided in October 2018 to terminate plans for the fuel fabrication plant and pursue a "dilute and dispose" plan instead. Nearly $6 billion has been sunk into the canceled project, the U.S. Government Accountability Office estimated last year. The termination also resulted in more than 1,000 employee layoffs by the end of January, according to local news reports.
Sen. Lindsey Graham (R-S.C.), a MOX fuel project supporter, called the decision to terminate the program a "colossal mistake" and "shortsighted."
There are now plans to turn the incomplete MOX fuel facility into a production center for plutonium pits, the fissile core of the first stage of a modern nuclear weapon, to implement the Trump administration's directive to increase pit production.—SHERVIN TAHERAN
Saudi Arabia Seen to Build Missile Factory 
Satellite imagery suggests that Saudi Arabia has built its first facility to produce ballistic missiles, according to U.S. open-source analyses completed in late January. Such a factory would augment Riyadh's existing arsenal of Chinese-supplied, intermediate-range ballistic missiles.
Images of the al-Watah missile base analyzed by the Middlebury Institute of International Studies at Monterey indicate that Saudi Arabia has expanded the facility to include a rocket-engine production and test facility, although it is unclear if the facilities are actually producing missiles at this point. The plant's characteristics indicate that the Middle Eastern power is pursuing ballistic missiles with solid-fueled rocket engines, which can be launched more quickly than liquid-fueled systems. Analysts asked by The Washington Post to study the images concurred with the Middlebury team.
The existence of a Saudi ballistic missile production facility and the uncertain future of the Iran nuclear deal raises concerns that Riyadh may be pursuing capabilities needed for a covert nuclear weapons program. Saudi Arabia is currently negotiating a civil nuclear cooperation agreement with the United States and has been reluctant to forgo uranium enrichment and plutonium reprocessing for fuel production or agree to more stringent international oversight as part of the deal.
Saudi Crown Prince Mohammed bin Salman said in March 2018 that "if Iran developed a nuclear bomb, we will follow suit as soon as possible."
Saudi Arabia already possesses ballistic missiles that it purchased from China. Riyadh displayed one system, the DF-3 with a range of 3,000 kilometers, at a parade in 2014. Beijing reportedly took steps to ensure that the missiles could not be used to deliver nuclear warheads. The al-Watah base was likely built in 2013 to house these systems.—KELSEY DAVENPORT
Report Blows Whistle on Saudi Nuclear Talks 
Trump administration efforts to promote the sale of civilian nuclear technology to Saudi Arabia drew renewed congressional scrutiny in February. The U.S. House Oversight Committee released a Feb. 19 report describing White House efforts to rush the sale of nuclear power reactors while underplaying the legal obligations of the Atomic Energy Act, which requires the negotiation of a bilateral agreement to ensure nuclear technology is not misused.
Hashim Yamani, president of the King Abdullah City of Atomic and Renewable Energy, arrives for a 2016 White House visit. (Photo: Olivier Douliery/AFP/Getty Images)
The report describes the concerns of White House national security staff that the administration undertook "unethical and potentially illegal" actions in 2017 to see through a sale of nuclear reactors to Saudi Arabia. The report points particularly to former National Security Advisor Michael Flynn and former National Security Council staff director Derek Harvey, among several other named former officials or associates of President Donald Trump, including his senior adviser and son-in-law Jared Kushner.
Saudi Arabia's reluctance to adopt the "gold standard" of these agreements, known as 123 agreements for the section of the law that applies to them, has worried nuclear nonproliferation experts. Nations adopting that standard, such as the United Arab Emirates in 2009 and Taiwan in 2013, agree to forgo enriching uranium or reprocessing plutonium and to adopt an additional protocol to their safeguards agreement with the International Atomic Energy Agency to confirm the peaceful nature of their nuclear activities. Concerns about Saudi Arabia grew after Saudi Crown Prince Mohammed bin Salman said last year that Saudi Arabia would develop nuclear weapons if Iran did and after the October 2018 murder of Washington Post columnist Jamal Khashoggi. (See ACT, December 2018.)
Meanwhile, members of Congress have continued to scrutinize the 123 agreement negotiations by introducing legislation that would increase congressional oversight. Rep. Brad Sherman (D-Calif.), chairman of the House Foreign Affairs nonproliferation subcommittee, has offered bills to give Congress a more active role in approving 123 agreements. A Feb. 12 bipartisan resolution by Sens. Jeff Merkley (D-Ore.), Rand Paul (R-Ky.), and Ed Markey (D-Mass.) says that any agreement with Saudi Arabia should adhere to the gold standard.—SHERVIN TAHERAN
Pentagon Seeks 'Ethical Principles' for AI Use 
Hoping to encourage artificial intelligence (AI) experts to support U.S. military programs, the U.S. Defense Department is pursuing plans to develop "ethical principles" for AI use in warfare, Defense One first reported in January. Defense Department leaders asked the Defense Innovation Board, an advisory group that includes Silicon Valley executives, to deliver a set of recommendations in June.
The effort to develop principles follows the expression of concerns by AI specialists over how their expertise would be used in defense programs. In May 2018, for example, more than 4,000 Google employees signed a petition urging the company to discontinue its work on Project Maven, a Pentagon-funded AI effort to evaluate drone footage of suspected terrorists and their hideouts. The employees expressed concerns that their work in the civilian sector would be used in a military manner.
Google subsequently announced that it would not renew the Maven contract and promised never to develop AI for "weapons or other technologies whose principal purpose or implementation is to cause or directly facilitate injury to people."
Google's actions have raised concerns at the Defense Department, where senior officials plan to enlist top U.S. software engineers in the design of AI-enhanced weapons and other military systems.
The Defense Innovation Board, an independent federal advisory committee established in 2016 to assist the secretary of defense, is chaired by Eric Schmidt, former executive chairman of Alphabet, Google's parent company. The board has begun a series of public and private meetings around the country with scientists, academics, legal experts, and others to collect a range of views on the subject.—MICHAEL T. KLARE
U.S. Approves Missile Defense Sale to Japan 
The Trump administration gave its final approval Jan. 29 for a $2.2 billion sale of missile defense systems to Japan. Congress received notification of the deal, including two Aegis Ashore missile interceptor batteries, from the Defense Security Cooperation Agency, triggering a 30-day opportunity for Congress to object, which happens rarely. The sale notification was delayed by the 35-day U.S. government partial shutdown, which slowed the Foreign Military Sales approval process, including a necessary green light from the U.S. State Department.
The sale reflects expanding U.S. support for Japan's multilayered missile defenses, which already include multiple U.S.-provided Aegis systems on Kongo-class destroyers. Japan's cabinet approved missile defense expansion plans in December 2017. (See ACT, September 2018.) 
The Aegis Ashore systems are slated to feature the Standard Missile-3 Block IIA missile interceptor, which is currently completing testing. (See ACT, December 2018.) The interceptor uses hit-to-kill technology to defeat short- and intermediate-range ballistic missiles. The scope of intended targets may increase because the Trump administration's 2019 Missile Defense Review calls for testing the interceptor against an intercontinental ballistic missile-class target in 2020. 
The defense sale includes supporting equipment, software, U.S. construction and logistical services, and six vertical launchers.—SASHA PARTAN